JOIN THE FUN!
LEGENDARY COMEDY, LATE NITE CATECHISM,
CELEBRATES 30 YEARS!
TICKETS OFFERED AT ORIGINAL $8 PRICE
A Chicago original and international hit, Late Nite Catechism turns 30 this month in the city where it all started.
For the entire month of May, a special discount will be offered. To commemorate the original $8 ticket price, four tickets per performance have been set aside at that original $8 price. To get those, use a special code, LNC30, when ordering tickets through the Greenhouse Theater site.
All other tickets are $35
Long-running hits like Late Nite Catechism are a rarity.
The role of Sister, the wise-cracking, lovable character of Late Nite Catechism, was created by Vicki Quade and Maripat Donovan, both products of the Catholic school system.
The New York Times calls it, "hilarious, well-written and inspired." Jeffrey Lyons from TV's Sneak Previews calls Late Nite Catechism "something to savor and enjoy….one of the most intimate, rewarding shows in town."
You, the audience member, are part of Sister's class. She'll take you back to the days of the Latin Mass, meatless Fridays, and remind you about that good old ruler across the knuckles!
The first and only preview performance was on May 28, 1993, followed the next day, May 29, as the official opening, at Live Bait Theatre in Chicago.
Since opening in 1993, Late Nite Catechism has seen three popes, three Chicago cardinals, five U.S. presidents, four Chicago mayors, been performed in at least a dozen Chicago area theaters, hired 20 local actresses, and provided laughter to more than 3.5 million audience members in more than 410 cities, playing in six countries on four continents. Worldwide, the show has grossed more than $100 million in box office receipts.
In addition, the show has helped raise more than $4 million for the retirement funds of various orders of nuns.
Our anniversary celebration will take place over two days. The 5 p.m. Saturday, May 27, performance will be open to the public and feature Mary Zentmyer. A champagne toast will be included.
The 2 p.m. Sunday, May 28, celebration will be invited guests only, with a performance by Liz Cloud, and a pre-show party.
Performances are at the Greenhouse Theater Center, 2257 N. Lincoln Ave., Chicago.
Late Nite Catechism performances are at
5 p.m. Saturdays and 2 p.m. Sundays.
For more information, go to www.nuns4fun.com.
For tickets at the Greenhouse Theater Center, call the box office at 773-404-7336, or go online to: www.greenhousetheater.org.
Hit Comedy, Bible Bingo, Returns
To the Greenhouse Theater Center, Chicago
Bingo. Laughter. Goofy Prizes. And a bit of the Bible!
Vicki Quade and Nuns4Fun Entertainment are proud to announce the return of the hit comedy, Bible Bingo, at the Greenhouse Theater Center, Chicago.
Now in its 13th year, Bible Bingo is a long-running comedy about the Catholic culture of fundraising and bingo, featuring the character, Mrs. Mary Margaret O'Brien, a former nun who now heads a fictitious archdiocese fundraising department. It's written by Vicki Quade, one of the creators of the international hit comedy, Late Nite Catechism.
Featured in the New York Times, Bible Bingo is described this way: "The show features improv, Broadway show-tune singalongs, onstage audience-participation quizzes about the Bible and, yes, bingo. Prizes include glow-in-the-dark rosaries and Jesus car fresheners that smell like olive trees."
The Chicago Tribune promises "interactive fun." The Chicago Stage Standard calls the show, "A fresh new twist on bingo." New City Chicago raves, "the show is filled with Catholic humor."
Sharing the role of Mrs. O'Brien will be the show's creator, Vicki Quade, along with comic actresses Liz Cloud and Nancy Greco, who have both appeared in many of Quade's religious comedies.
In this interactive comedy, the parish needs money and Mrs. O'Brien is ready to help! Bring the two together and you have a night of bible trivia, audience interaction, improvised moments, and the funniest quiz about the Holy Family you've ever seen.
Add to that a box of wacky prizes, fun bingo cards, and a lot of Catholic humor. In this interactive bingo show, you'll actually play bingo, and still learn a little something about what it means to be Catholic! The show gets the audience talking about everything from Adam & Eve to modern sins.
You'll be laughing so hard, you'll have to be careful watching your bingo cards!
"Bible Bingo is a really good show," says Theatre by Numbers.  "A number of people get together to have some munchies and drinks.  They play a few rounds of Bingo while they laugh, sing, chat, and goof around.  It is a beautiful thing."
Late Nite Catechism remains on the schedule at 5 p.m. Saturdays, and 2 p.m. Sundays
Greenhouse Theater Center, 2257 N. Lincoln Ave., Chicago.
Tickets are $35. Group discounts are available.
For ticket info, call the box office at 773-404-7336.
Or order online: https://www.greenhousetheater.org/
Let Nuns4Fun Entertainment Provide Your Next Fundraiser
Looking for a terrific fundraiser? Let Nuns4Fun bring a tried and true crowd-pleaser.
Check out our latest marketing video. Then get in touch!
Call the Nuns4Fun office at 773-388-0730 or e-mail info@nuns4fun.com.
 MEANWHILE: Add This to Your Reading List!
For years, Chicagoan Vicki Quade has been telling stories as a journalist, playwright, theater producer, and performer. So it's not surprising she has a way of connecting with quirky characters during mundane, everyday occurrences.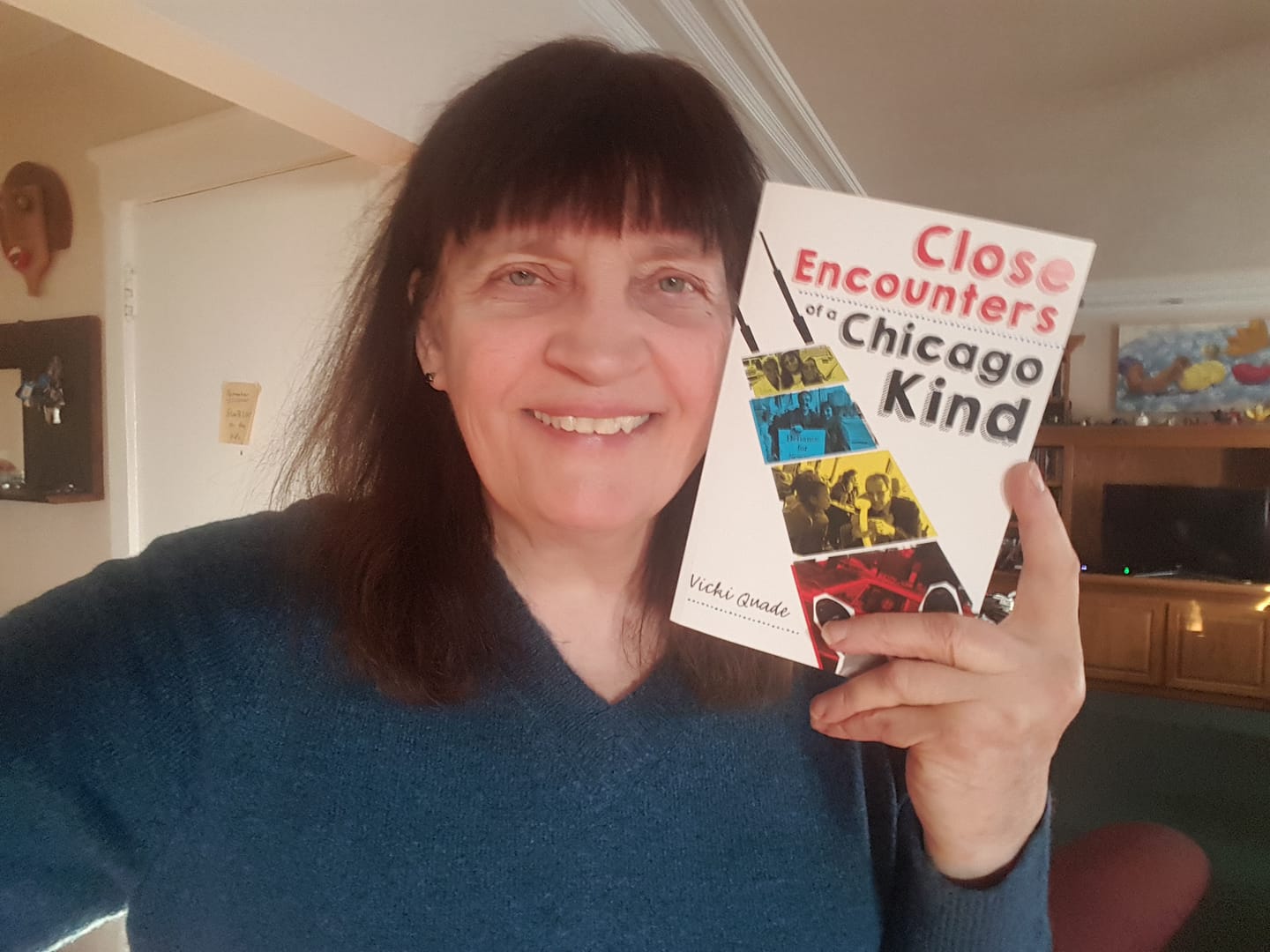 CLOSE ENCOUNTERS OF A CHICAGO KIND is a compilation of those stories, examining the lives that brush past her on city streets, in banks, at the grocery store or in restaurants. With a sharp wit and empathetic skill, Quade colorfully recreates brief scenarios that range from the comic to the bizarre to the dangerous – and all are unique to the spirit of the Windy City.
"Vicki Quade is a Chicago treasure with an abiding curiosity about the world around her, and sprinkled among these fly-on-the-wall stories are some valuable tips on things to see and experiences to have in our great city." — Will Clinger, Producer and Host of WILD TRAVELS, a TV show that airs nationally on PBS.
"Anyone who loves or wants to know Chicago will enjoy Vicki's keen humor and vivid memories. They invite us to find new ways to live and laugh, especially during this pandemic isolation. Maybe it will encourage some to write their own memories of human encounters!"
— Sister Patricia Crowley, O.S.B., Benedictine Sisters of Chicago
Here's the link for CLOSE ENCOUNTERS OF A CHICAGO KIND: