Nuns4Fun Entertainment
announces Fall 2021 reopening
at the Greenhouse Theater Center.
Late Nite Catechism performances starting in September 2021.
Sister says, "Let's get back in the habit!"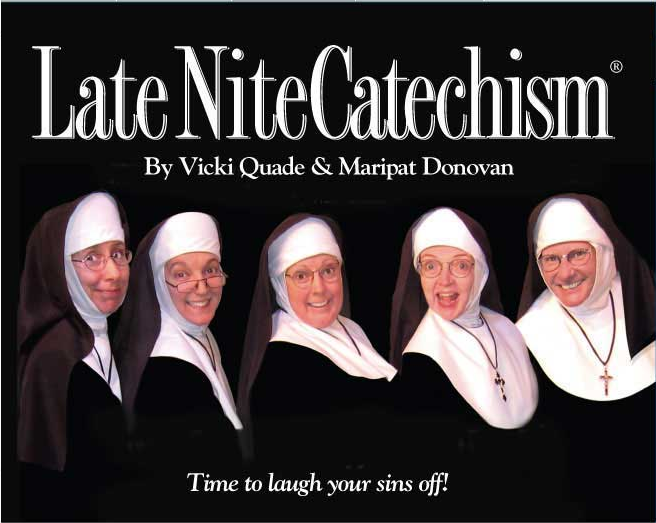 Nuns4Fun Entertainment has announced its Fall 2021 schedule, starting with reopening its hit comedy, LATE NITE CATECHISM, in September 2021 at the Greenhouse Theater Center, 2257 N. Lincoln Ave., Chicago.
Call it Loretta Young meets Carol Burnett, with a little Whoopi Goldberg thrown in. The show is part catechism class, part stand-up comedy routine. Written by Vicki Quade & Maripat Donovan, it's an interactive comedy, one of the longest running shows in Chicago and U.S. theater history.
Now celebrating its 28th year, LATE NITE CATECHISM opened over the Memorial Day weekend in 1993 and had been running continuously, only forced to take a break during the pandemic. But Sister is back!
Since opening in May of 1993 at Live Bait Theatre in Chicago, LATE NITE CATECHISM has seen three popes, three cardinals, four presidents, three Chicago mayors, at least a dozen Chicago area theaters, 20 local actresses, and provided laughter to more than 3.5 million audience members in more than 410 cities, playing in six countries on four continents. Worldwide, the show has grossed more than $100 million in box office receipts.
In addition, LATE NITE CATECHISM has helped raise more than $3 million for the retirement funds of various orders of nuns.
The New York Times calls it "hilarious, well-written and inspired." The Chicago Reader calls it "a top-notch comedy." Jeffrey Lyons from TV's Sneak Previews called LATE NITE CATECHISM "something to savor and enjoy….one of the most intimate, rewarding shows in town."
In addition, Nuns4Fun Entertainment will reopen its Halloween comedy, HOLY GHOST BINGO, in October 2021, and reopen its holiday classic, CHRISTMAS BINGO, for the holiday season, both at the Greenhouse Theater Center.
Tickets for all shows are $35.
The Greenhouse Theater Center box office will not be staffed until August, but tickets are already available online at:
https://greenhousetheatercenter.thundertix.com/
For more information, visit the Nuns4Fun website at www.nuns4fun.com, or call the Nuns4Fun office at 773-388-0730.
 MEANWHILE: Here's another fun things to do.
Feel like reading a fun book?
For years, Chicagoan Vicki Quade has been telling stories as a journalist, playwright, theater producer, and performer. So it's not surprising she has a way of connecting with quirky characters during mundane, everyday occurrences.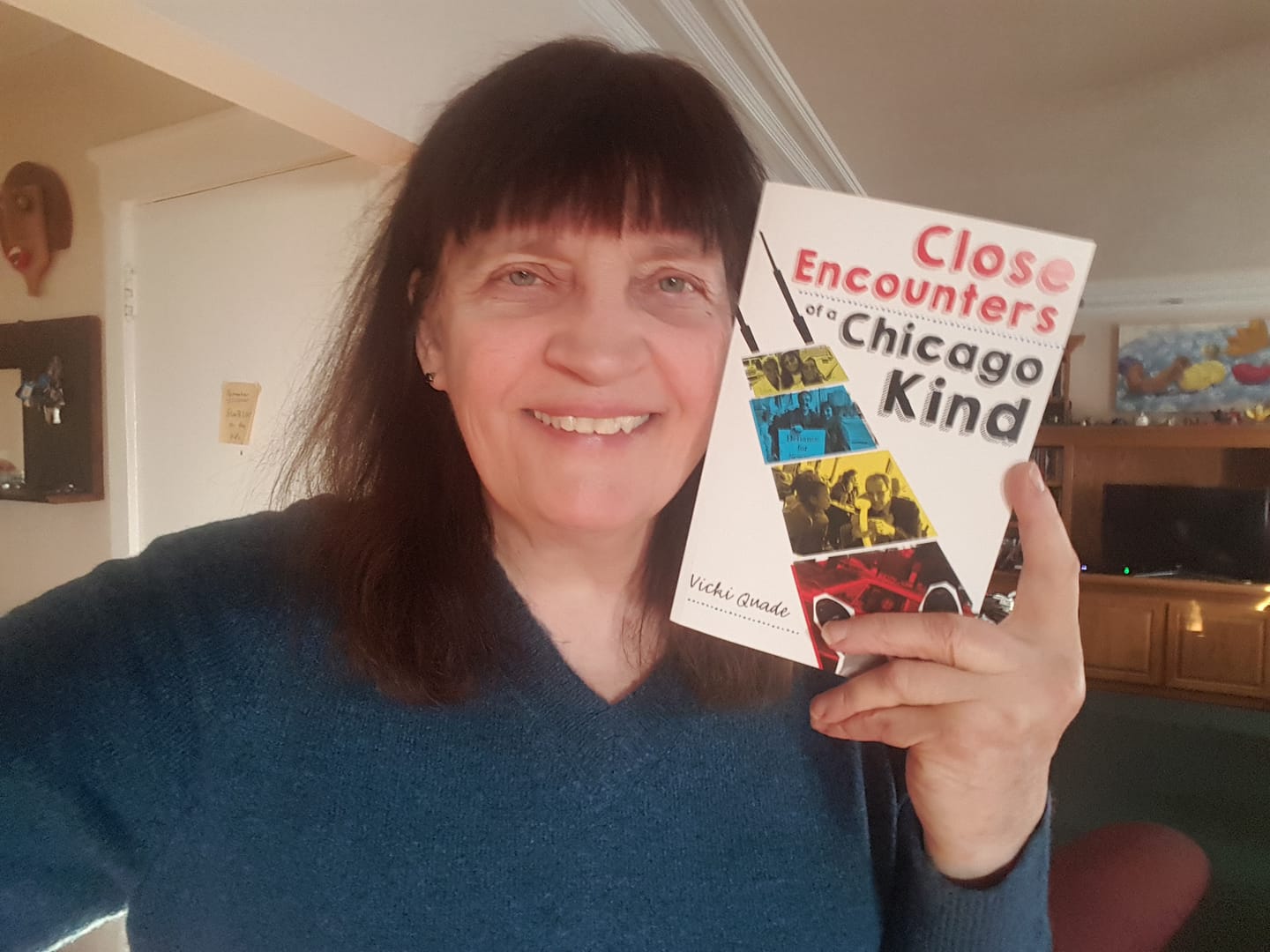 CLOSE ENCOUNTERS OF A CHICAGO KIND is a compilation of those stories, examining the lives that brush past her on city streets, in banks, at the grocery store or in restaurants. With a sharp wit and empathetic skill, Quade colorfully recreates brief scenarios that range from the comic to the bizarre to the dangerous – and all are unique to the spirit of the Windy City.
"Vicki Quade is a Chicago treasure with an abiding curiosity about the world around her, and sprinkled among these fly-on-the-wall stories are some valuable tips on things to see and experiences to have in our great city." — Will Clinger, Producer and Host of WILD TRAVELS, a TV show that airs nationally on PBS.
"Anyone who loves or wants to know Chicago will enjoy Vicki's keen humor and vivid memories. They invite us to find new ways to live and laugh, especially during this pandemic isolation. Maybe it will encourage some to write their own memories of human encounters!"
— Sister Patricia Crowley, O.S.B., Benedictine Sisters of Chicago
Here's the link for CLOSE ENCOUNTERS OF A CHICAGO KIND:
Here's how it works:
Click the link to purchase your book.
Remember, this would make a great present!
That's it!