Trade in Gifts You Don't Want for Tickets You Do!
Re-gift something in January, get a $15 ticket!
Did you get a present you don't want? Don't return it, re-gift it!
Trade that unwanted item for a $15 ticket to Late Nite Catechism during January at the Greenhouse Theater Center, starting January 7.
As part of their annual campaign to help nuns, Vicki Quade and Nuns4Fun Entertainment are once again trading tickets for presents.
Don't want that cranberry scented candle? Re-gift it!
The diet book your sister gave you? Re-gift it!
The space alien socks you won't ever wear? Yep, re-gift those, too!
For the entire month of January, bring in a holiday gift that someone was sure you wanted, but would make a perfectly good item to re-gift. Items collected will be donated to the Little Sisters of the Poor, who operate St. Mary's Home at 2325 N. Lakewood, Chicago.
For more information, or to purchase tickets, call the Greenhouse box office at 773-404-7336, or go online to: https://www.greenhousetheater.org/
Use the code REGIFT for your $15 ticket.
Bring your item to the Greenhouse theater at 2257 N. Lincoln Ave., Chicago.
Late Nite Catechism, written by Vicki Quade & Maripat Donovan, is an international hit comedy now in its 30th year, featuring "Sister" teaching her own style of catechism to her class, that's you, the audience members. The Chicago Reader calls it, "Gloriously funny!"
Late Nite Catechism returns to its regular schedule at 5 p.m. Saturdays and 2 p.m. Sundays.
Greenhouse Theater Center, 2257 N. Lincoln Ave., Chicago. Tickets are $35. Group discounts are available. For ticket info, call the box office at 773-404-7336.
 MEANWHILE: Add This to Your Reading List!
For years, Chicagoan Vicki Quade has been telling stories as a journalist, playwright, theater producer, and performer. So it's not surprising she has a way of connecting with quirky characters during mundane, everyday occurrences.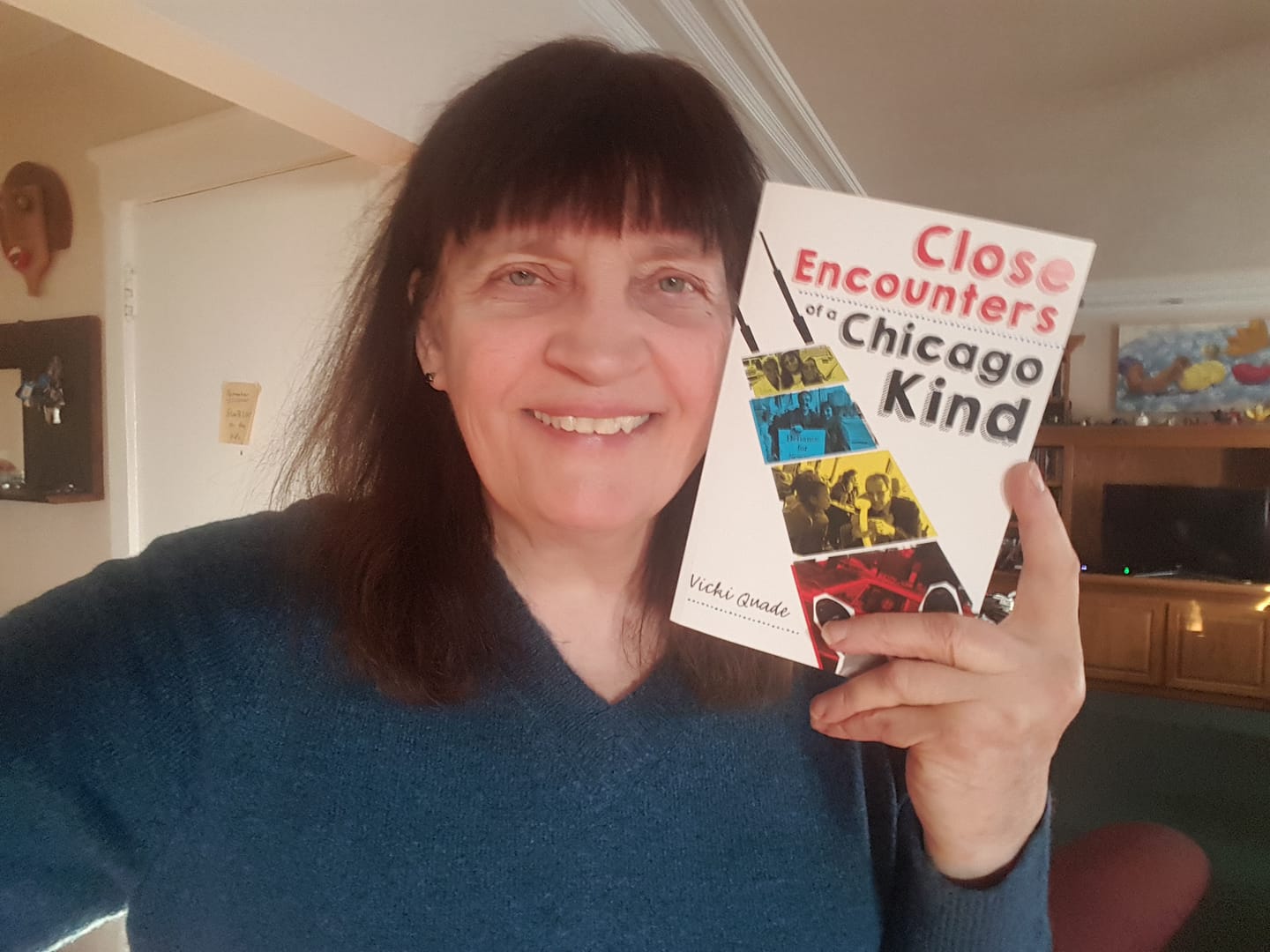 CLOSE ENCOUNTERS OF A CHICAGO KIND is a compilation of those stories, examining the lives that brush past her on city streets, in banks, at the grocery store or in restaurants. With a sharp wit and empathetic skill, Quade colorfully recreates brief scenarios that range from the comic to the bizarre to the dangerous – and all are unique to the spirit of the Windy City.
"Vicki Quade is a Chicago treasure with an abiding curiosity about the world around her, and sprinkled among these fly-on-the-wall stories are some valuable tips on things to see and experiences to have in our great city." — Will Clinger, Producer and Host of WILD TRAVELS, a TV show that airs nationally on PBS.
"Anyone who loves or wants to know Chicago will enjoy Vicki's keen humor and vivid memories. They invite us to find new ways to live and laugh, especially during this pandemic isolation. Maybe it will encourage some to write their own memories of human encounters!"
— Sister Patricia Crowley, O.S.B., Benedictine Sisters of Chicago
Here's the link for CLOSE ENCOUNTERS OF A CHICAGO KIND: