Are You Smarter Than Your 8th Grade Nun?
New, interactive comedy game show
NOW EXTENDED
at the Greenhouse Theater Center
through August 28
History, mathematics, spelling! How much do you really remember?
Find out at the new interactive game show comedy, Are You Smarter Than Your 8th Grade Nun?, at the Greenhouse Theater Center, 2257 N. Lincoln Ave., Chicago.
Written by Vicki Quade, co-creator of the hit comedy, Late Nite Catechism, this game show features willing audience members who'll compete in teams to see who was paying attention and who was daydreaming in school.
The play, produced by Nuns4Fun Entertainment, features the talents of Vicki Quade, Nancy Greco, Rose Guccione, and Liz Cloud, sharing the roles of the Emcee and the 8th Grade Nun, who will spin the wheel and land on whatever subject comes up.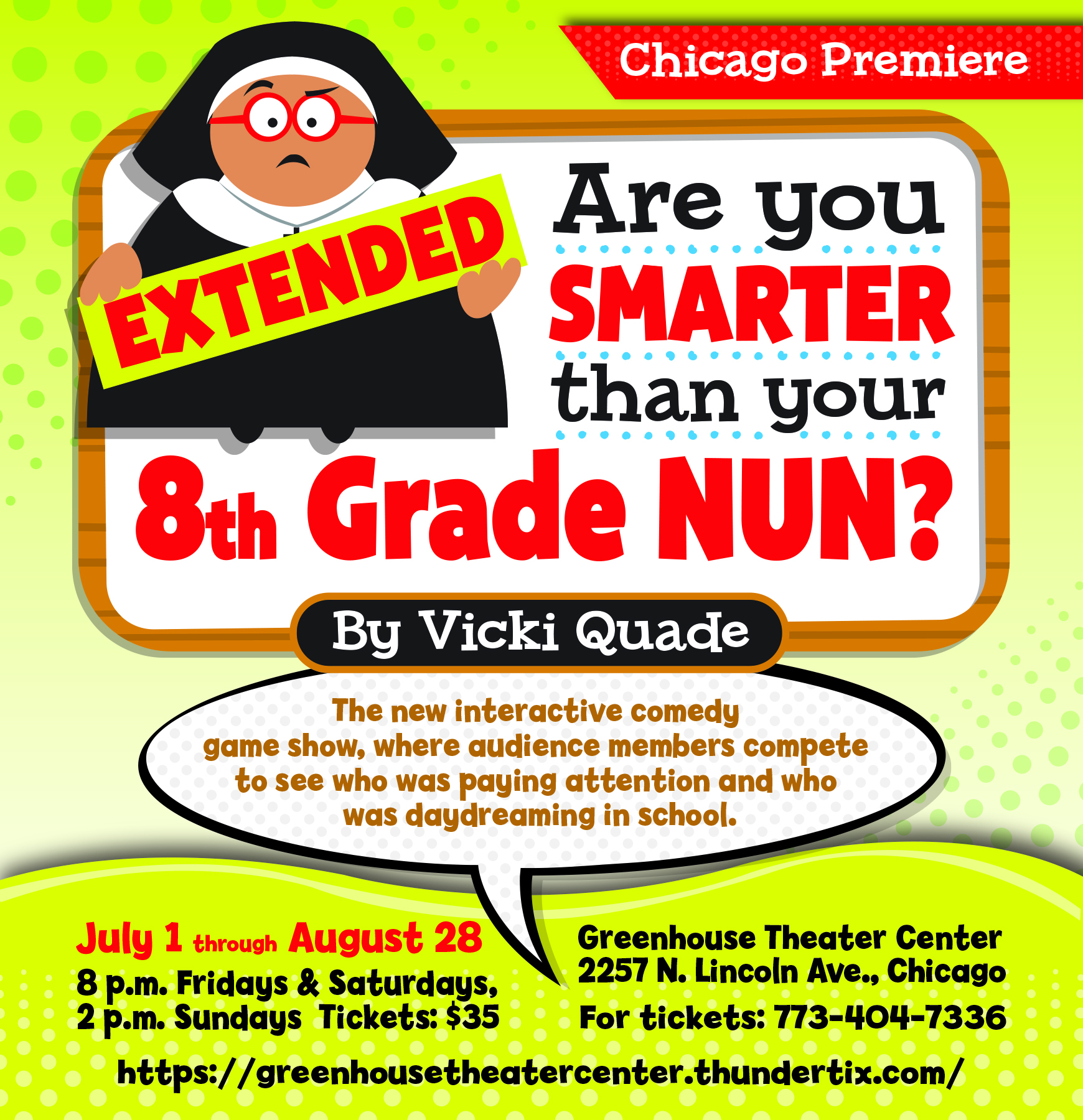 Think you can remember what your 8th grade nun was trying to teach you?
In this comedy game show, contestants are quizzed on subjects like history, geography, arithmetic, science, civics, and a few more! Answer too many questions wrong, and you'll end up in Purgatory, where you have to answer a religious question to get out. Along the way, they'll still experience a lot about their Catholic or religious upbringing and get a little catechism lesson as well.
In other words, they'll be laughing their sins off!
Winners get a free pass to heaven, and for some, a Get Out of Hell Free card!
Prizes range from glow-in-the-dark rosaries, holy cards, and bible keychains.
Just the sort of things your actual 8th grade nun would give out to her favorite students.
Show times are: Fridays and Saturdays at 8 p.m., Sundays at 2 p.m.
Through August 28
Tickets: $35
For tickets or more information, call the box office at 773-404-7336, or visit https://greenhousetheatercenter.thundertix.com/
 MEANWHILE: Add This to Your Reading List!
For years, Chicagoan Vicki Quade has been telling stories as a journalist, playwright, theater producer, and performer. So it's not surprising she has a way of connecting with quirky characters during mundane, everyday occurrences.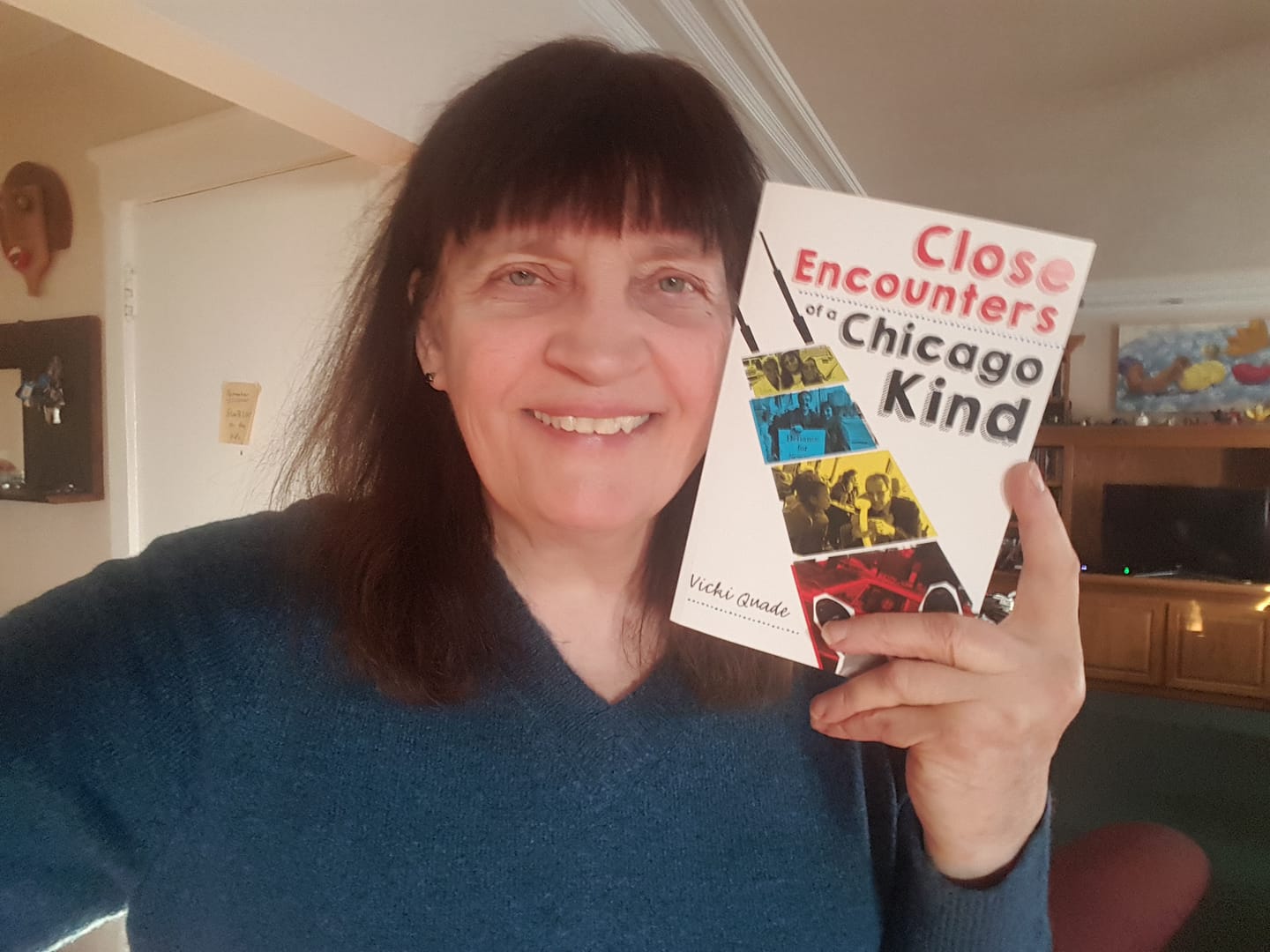 CLOSE ENCOUNTERS OF A CHICAGO KIND is a compilation of those stories, examining the lives that brush past her on city streets, in banks, at the grocery store or in restaurants. With a sharp wit and empathetic skill, Quade colorfully recreates brief scenarios that range from the comic to the bizarre to the dangerous – and all are unique to the spirit of the Windy City.
"Vicki Quade is a Chicago treasure with an abiding curiosity about the world around her, and sprinkled among these fly-on-the-wall stories are some valuable tips on things to see and experiences to have in our great city." — Will Clinger, Producer and Host of WILD TRAVELS, a TV show that airs nationally on PBS.
"Anyone who loves or wants to know Chicago will enjoy Vicki's keen humor and vivid memories. They invite us to find new ways to live and laugh, especially during this pandemic isolation. Maybe it will encourage some to write their own memories of human encounters!"
— Sister Patricia Crowley, O.S.B., Benedictine Sisters of Chicago
Here's the link for CLOSE ENCOUNTERS OF A CHICAGO KIND: